Project Archive
The following is a list of past projects. Please contact us at bioregional-center@ucsd.edu if you would like more information regarding any of our past projects.
In this San Diego-based project, we analyze the relationship between the informal economy, community gardens and healthy food options.
Goal
To assemble an understanding of the complexity of the alternative food economy, looking at the relationship between production, distribution, and consumption of urban agricultural products in low-income communities.
Objectives
Understand the ways in which capital flows and food flows intersect and the ways in which they shape, and could be shaped by, economic development and public policy.
Investigate informal channels of barter while also studying the scope and scale of their penetration in the formal economy.
Engage with residents and CBOs to develop strategies to link food industry micro-entrepreneur training, pathways to economic formalization, community gardens, and improved access to culturally appropriate healthy food options.
Project Description
This project aims to investigate the relationship between the informal economy, healthy food options, and alternative urban food systems. Linking research on food systems, health and ecology to labor force and micro-enterprise development creates actionable pathways for improving social justice in the context of urban food systems. The work focuses on methods and pathways for developing demand for locally produced food and value-added food products, connecting local food production to workforce development, and enhancing local economic development as components of a more resilient food and local economic system.
This project was co-designed with Jim Bliesner from the Center for Urban Economics and Design, and community partner Walt Sandford, executive director of the San Diego Community Garden Network. Critical support was also provided by Jacquelynne Le, our community liaison. A team of undergraduate students from the Urban Studies and Planning Program at UC San Diego worked as research assistants on the project. 
Project Status: Began in July 2015 and concluded June 2016.
In this project, the Water Quality Scenario Planning Model is used to compare scenarios with two different types of multi-family residential development, using two different approaches to stormwater mitigation.
Goal
To evaluate whether off-site green infrastructure solutions can help to meet stormwater mitigation requirements in a cost-effective manner.
Objectives
Provide a comparison of the costs of on-site stormwater mitigation measures with those of off-site measures for a typical residential project.
Evaluate the sensitivity of results to changes in the pricing of the off-site mitigation project.
Project Description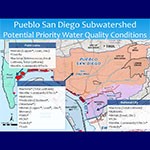 In our demonstration project we used the Water Quality Scenario Planning Model to evaluate hypothetical site plans for two different types of multi-family residential development on a 2.6-acre vacant site at Euclid Avenue and Market Street in the Encanto Community in southeastern San Diego. The demonstration project also looked at two different approaches for meeting stormwater mitigation requirements for the projects pursuant to the latest regulations promulgated by the San Diego Region Water Quality Control Board (SDRWQCB) for the Chollas Creek Watershed, where the project site is located. The new regulations, which set strict limits on how much stormwater can run off a particular property, are incorporated into the Water Quality Improvement Plan that has been developed for the Pueblo/Chollas Creek Watershed and approved by SDRWQCB. These new regulations are intended to reduce the flow of contaminated urban runoff into San Diego's waterways and coastal zone. The first set of stormwater-mitigation scenarios assumed that all mitigation requirements would be met through on-site control measures. The second set of scenarios assumed that 50 percent of mitigation requirements would be met through on-site measures while the other 50 percent would be met through off-site "green infrastructure" measures to be installed on a future city park site. The results of the analysis indicated that the estimated costs to the developer of using 100 percent on-site versus 50 percent on-site / 50 percent off-site mitigation measures were comparable. However, the use of off-site measures would lead to 
additional community benefits by providing funding to the city to help cover the costs of future park development.
Project Status: Began in January 2014 and concluded in November 2015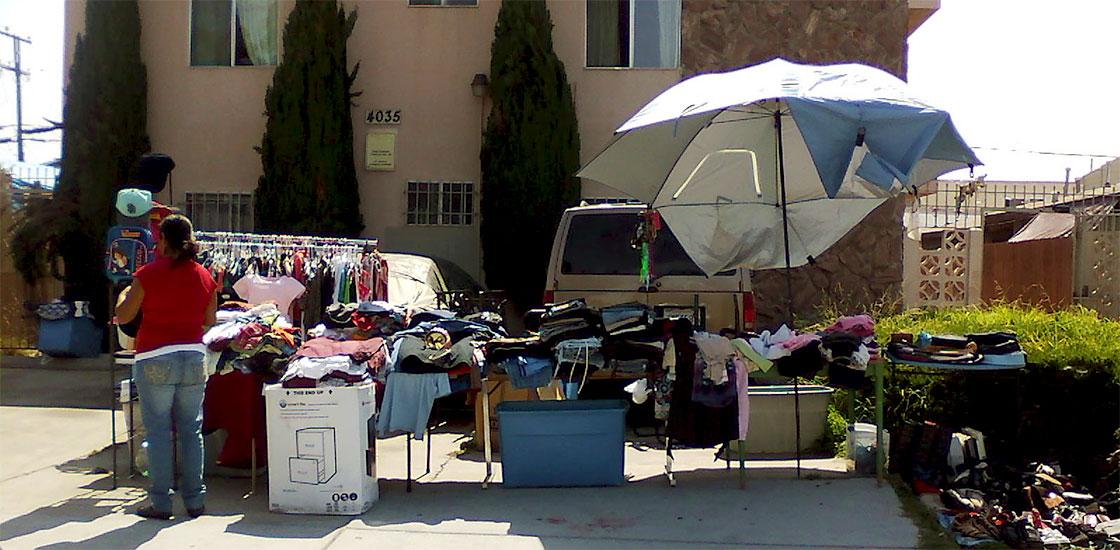 In the Informal Economy in City Heights project, we evaluated the breadth and depth of informal economic activity in this San Diego, California, community.
Goal
To evaluate the role of the informal economy in contributing to household wealth in low-income communities.
Objectives
Evaluate the extent to which City Heights residents use the informal economy to sell and/or purchase goods and services.
Identify community perceptions of the value of informal economic activity.
Develop strategies to support informal economic activity either through formalization or the promotion of flexible public policies.
Project Description
The focus of this project was to develop statistically verifiable indicators of the character of the informal economy in City Heights, identifying both consumer and worker behavior as well as prevailing attitudes about the value of the informal economy. Data was collected through the administration of a survey to approximately 100 residents of City Heights representative of the diverse racial, ethnic, and cultural communities found in the neighborhood. The findings demonstrate that the informal economy is alive and well in City Heights and is used by a variety of immigrant populations as well as long time residents. Nearly all of the respondents live below basic income thresholds. An overwhelming number of respondents use the informal economy for the purchase of goods and services. We found that many informal businesses exist in the absence of formal businesses (gap entrepreneurism) providing similar goods.
The findings also identified a sizable number of residents who work, either part-time or full-time, in the informal economy. A large percentage of these persons involved in the informal economy want to grow their businesses, but a variety of factors inhibit them. A basic financing and training network exists among area nonprofits to serve informal businesses, but these resources are not widely known to residents. As such, informal business entrepreneurs are not accessing available resources to assist their business development. Impediments to business expansion include financing capital, training, and licensing and regulatory obstacles. We recommend the development of policies and plans to address these issues through strategic partnerships between residents, CBOs, city and neighborhood elected officials and planners. 
Project Status: Began in March 2013 and concluded in August 2013.