Research
Urban Agriculture Workshops - Urban Agriculture Incentive Zone
The first of 4 Urban Agriculture workshops was held on Friday, March 23rd, 2018. The workshops are hosted by UC Agriculture and Natural Resources, UC Cooperative Extension – Los Angeles County, the San Diego Food System Alliance and San Diego City College.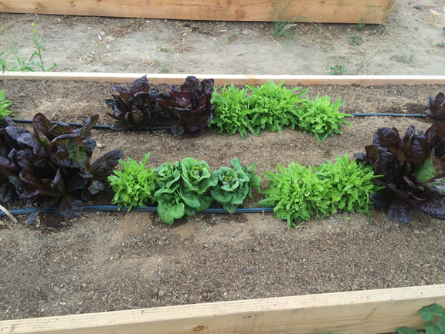 The workshop on March 23rd, entitled "Legal Basics of Urban Farming", provided San Diego residents with an overview of current and new urban agriculture laws and regulations. Elly Brown, Director of the San Diego Food System Alliance, an organization that is partnered with UC San Diego's SRC (CEC and RTC), and the UC San Diego Bioregional Center, provided the attendees with an overview of the Urban Agriculture Incentive Zones Act – AB551 (UAIZ).
AB551 is a California bill that was passed in 2014 and aims to create more land for urban agriculture by providing tax incentives for property owners of vacant parcels. If property owners choose to enter a 5 year (min) UAIZ contract, the properties will be reassessed yearly based on the annual average per acre value of irrigated cropland in California. This greatly reduces the amount property owners pay on annual property taxes, while providing the community with increased food production.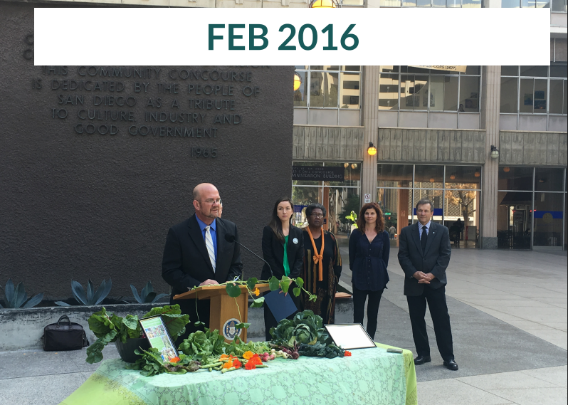 San Diego City Council agreed in early February 2018 to implement an Urban Agriculture Incentive Zone across the city – a huge win for local landowners. The approval came after a nearly two year delay by negotiations with county officials. Many of San Diego's neighborhoods are classified as "food deserts", with a lack of available fresh food, and an abundance of fast/junk food retailers.  UAIZ is an intervention for these neighborhoods, not only by increasing access to fresh food, but by increasing green spaces, building community, educating the public on making healthy food choices, and revitalizing our vacant lands.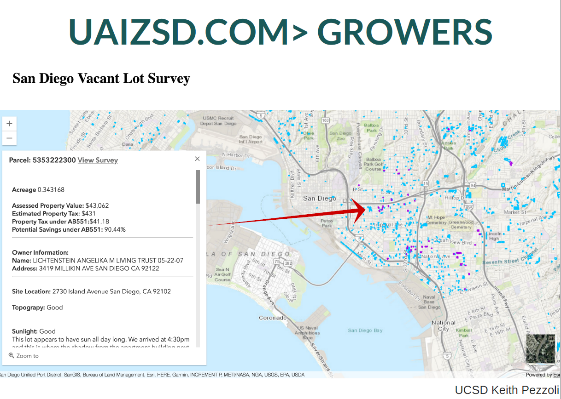 Through collaboration between our SRC (CEC and RTC), the Bioregional Center, San Diego Supercomputer Center, community partners, and student engagement, there is now an interactive map accessible to anyone interested in UAIZ. The map provides access to approved UAIZ lots, current property taxes, estimated UAIZ property taxes, as well as site surveys providing general features of the lot.